People are causing change
People are the source of innovation, so the daily work of each of us contributes to our development as a leader in waste management.
About a career at Eltex
We are a company that has a concrete, tangible and significant impact. We need colleagues who want to participate in shaping the future.
Our work is very important and is guided by a mission of responsibility for the future. So, if you feel that you need a purpose and an environment in which to fulfil it, we are with you.
Contact the Human Resources Department at hr@eltexrecycling.ro for questions or additional information about a current job or to submit your CV in our database.
Once entered in the database, your application can be selected for new recruitment projects, depending on your options for a particular position or field of activity, as well as the profile and number of available positions. The applications thus selected are carefully analysed, and the persons who meet the necessary criteria for filling a position will be contacted and invited to a first recruitment interview.
Începe o carieră la Eltex | Poziții deschise
În această secțiune vei găsi informații despre pozițiile deschise în cadrul companiei. 
Descoperă toate job-urile disponibile și dacă ești persoana potrivită te invităm să aplici la adresa de email hr@eltexrecycling.ro.
Te așteptăm în echipa noastră să lucrăm împreună pentru un viitor sustenabil!
Poziții deschise: 1 post, full time
Program de lucru: L-V, 08:00 - 16:00

Cerințele jobului:
- Studiile superioare (în special Protecția mediului)- constituie un avantaj;
- Atestat RSVTI pentru stivuitor - constituie un avantaj.
- Bune cunostințe de operare în Microsoft Office (în special Word);
- Experiență de lucru cu un sistem ERP (ex. SAP, Softone, Charisma);
- Experiență în coordonarea unei echipe (aprox. 30 angajați);
- Carnet de conducere categ. B;
- Limba engleză nivel mediu.

Sarcini și responsabilități:
- Administrează punctul de lucru, coordonează, monitorizează și controlează activitățile desfățurate în cadrul acestuia, în conformitate cu matricea de responsabilități, cu procedurile interne, procesele și normele în vigoare;
- Monitorizează și coordonează echipa de operatori și stivuitoriști;
- Realizează toate funcțiile administrative precum: întocmirea prezenței, gestionarea zilelor libere, întocmirea rapoartelor de lucru, menținerea disciplinei;
- Este persoana desemnată a se ocupa de toată activitatea de management a deșeurilor;
- Întocmește rapoarte de lucru, cu date complete și edificatoare ce trebuie să oglindească activitatea desfășurată.
- Este persoana de contact pentru toate problemele legate de administrarea punctului de lucru de care se ocupă;

Ce îți oferim:
- Salariu de bază conform contractului de muncă pe perioadă nedeterminată;
- Tichete de masă în valoare de 20 lei/zi lucrătoare;
- Asigurare de sănătate;
- Asigurare de viață;
- Tichete cadou de Crăciun și de Paște;
- Tichete cadou de 1 Iunie Ziua copilului;
- Formare profesională prin participarea la cursuri în domeniul reciclării și dezvoltare profesională;

Our results
Leaders in waste management for 30 years
We manage waste for some of the largest manufacturing companies in Romania and offer real and measurable results.
Waste recovered in excess of 24,000 tons per year.
Reduction of CO2 emissions of over 40,000 tons per year.
Savings generated to our partners of over 8.2 million Euros per year.
Earnings generated to our partners of over 19.4 million Euros per year.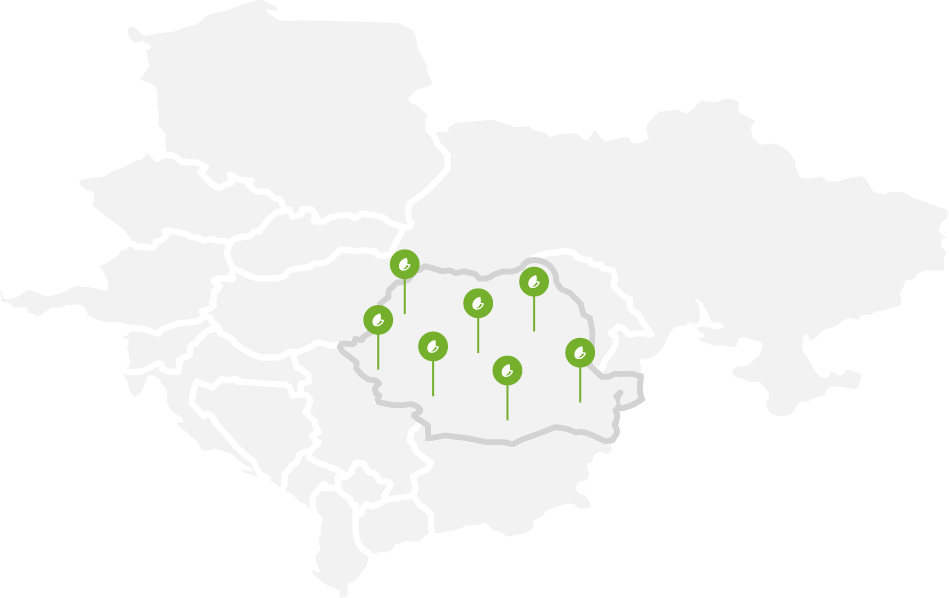 Acoperire națională
Activăm în locațiile clienților noștri!
PARTNERS
Companies we stand by